More info

Spec Sheet
HDMI switch 4 input 1 output with multi-view feature. Display all input in single screen, Full Screen, PIP, PAP, Windows and Quad.
Features
4 HDMI input

1 HDMI output
Control via IR remote control, USB Keyboard / Mouse and Push button
Up to 4 profiles can be saved.
Support for OSD channel rename
Video Up-Scale up to 1080p / 1920x1200



5 Mode Display : Full Screen, PIP, PAP, Windows and Quad.
- Free Style Drag & drop each windows via USB Mouse
- Zoom in or out with the mouse, keeping the aspect ratio or stretching free.
- Select the source that you want to be Background, which source is a full screen background.
- Double click on the source to select full screen.

- Use drag mouse to position PIP and zoom freely.
- Double click on the PIP screen to full screen display.

PAP

mode

(1 large video + 3 small video)
- Changing the position of the thumbnail from the template OSD menu : right, left, top, bottom.
- Choose full screen content from the OSD menu.
- Audio available from large video input only.
- Double click each windows for full screen. The Audio is still referenced large video.
- Sort 1,2,3,4

- Switch from remote and mouse buttons on the top OSD menu.
- Half-screen mode (Dual). Display only the left or right of the source.

Preview Mode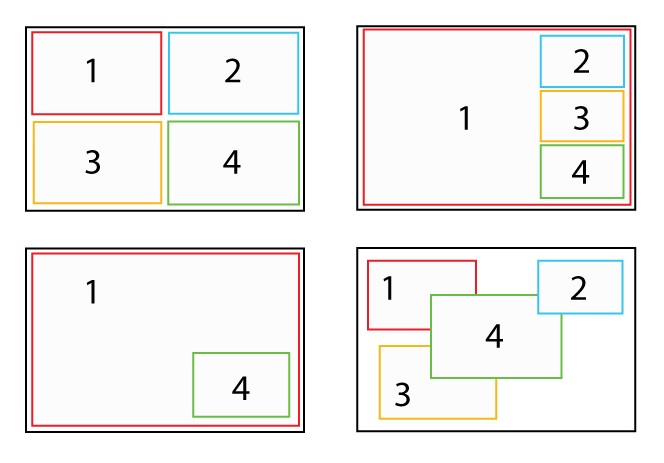 Diagram